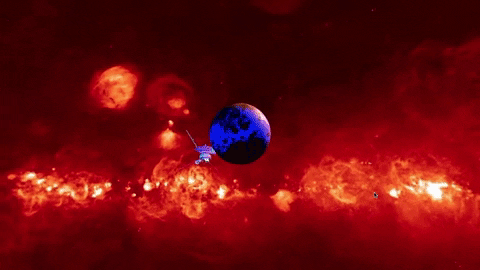 The concept:
Going back to my "Voyager" from a previous assignment
I wanted to create a platform for users to create their own story through the Voyager capsule. As you may recall, inside the Voyager you can find the Golden-Record, the sounds that were chosen to represent human kind. The Concept is pretty simplistic – you conjure you're own Voyager and search you're story through the Youtube.
The process:
This assignment is basically all the class's assignments tangled in a weird web of interactions.
First- For the Elements assignment I have decided to create the environment of the outer-space-different-dimension scene. The scene was created in Three.js by simply placing a sphere (planet) inside another sphere (sky) – the easy part.
The process of bringing the Voyager in was tricky.
First, I found the 3D model in the same website, and after a lot of searching and investigating, I knew I need to convert the model to a JSON file in order to load it at Three.js (for that I had to use "Blender") After some struggle with Blender, I managed to export the JSON file and load the model to the scene. After that it was a matter of animating the position and rotation.
Second – create the interaction. Thinking on how to interact with the scene, without using the keyboard/mouse, I wanted to create the interaction using sound. In this first version, I added p5 and I'm using it to open, and get the volume from the built-in microphone of the computer. And each time the volume reaches a certain threshold it will create another Voyager.
Third – search for your story. Youtube, as the fountain of content in the last 12 years or so, felt to me like the perfect stage to search for stories. This "Search" assignment uses Youtube API and plays the first result of your search. Bringing Youtube API to the picture was a challenge.  I got significant help from Mathura and managed to pull this off.
Forth – future plans. The vision for this work is to be able to search, save and re-call your own Voyager and listen/peek to it's content. This will require the Raycasting function that will provide the ability to choose an object in a 3D environment.
About the work:
Although the project is pretty simplistic and straight-forward
I feel I attained a lot of knowledge and coding experience when it comes to web applications and Three.js. I loaded a 3D object and used an API for the first time. The flow of the work gave me a lot to think of, in my search for new-age narrative and storytelling. About interactions and visual experience. About meaningful storylines and democratic media-universes.